About the Author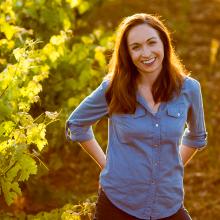 KRISTINA SHIDELER
WINEMAKER
Our Arrowood Winemaker since 2015, Kristina is passionate about crafting distinctive Cabernet Sauvignons from Sonoma's diverse AVAs and vineyards along the western ridges of the Mayacamas Mountains.
Soil samples from left to right: Sonoma Valley AVA, Alexander Valley AVA, Knights Valley AVA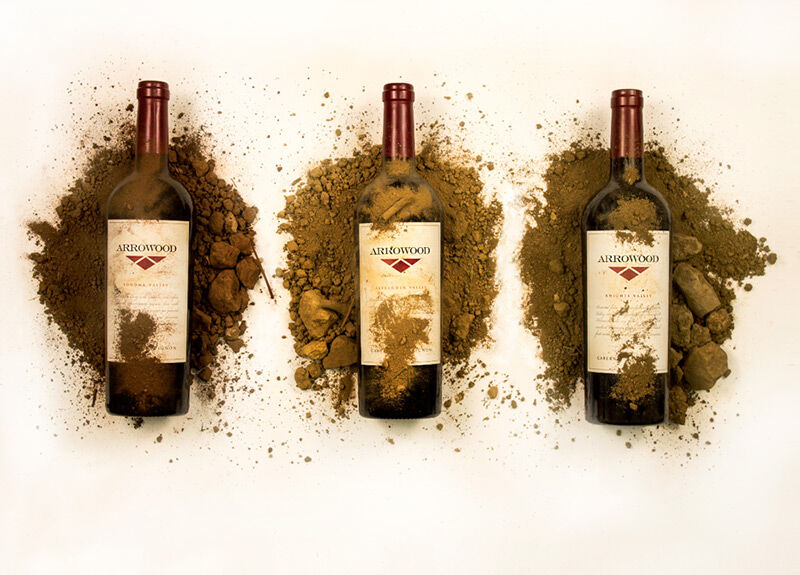 While there are a multitude of natural elements that influence Cabernet Sauvignon's character, from sun exposure to climate to vineyard elevation, dirt is the most tangible of these ingredients. As you can see above, each of the three AVA's we source from (Sonoma, Alexander, Knights) has its own unique, distinguishable soil composition. These different soil types—from the red volcanic soils of Sonoma Mountain to the fine-grained and almost dusty terrain of the Knights Valley—not only dictate the way we farm but, in concert with other natural forces, lend the Cabernet from each region its own distinct structure and flavor profile.
SONOMA VALLEY AVA
The "Valley" in the appellation title is a slight misnomer for Arrowood as we source our fruit exclusively from mountain vineyards—primarily Sonoma Mountain and Moon Mountain, which is also home to the historic Monte Rosso vineyard. These mountains are known for their red, iron-rich volcanic soils that produce wines with pronounced acidity. The well-drained, ashy soil here forces the vines' roots to dig deep in search of water. As the roots tunnel further underground, they soak up minerals, nutrients and microbes buried in the rocky layers beneath the top soil. The depth of these root systems translates into the concentrated and complex flavors of our Sonoma Valley Cabernet and makes our vines hearty enough that we can dry farm specific sites.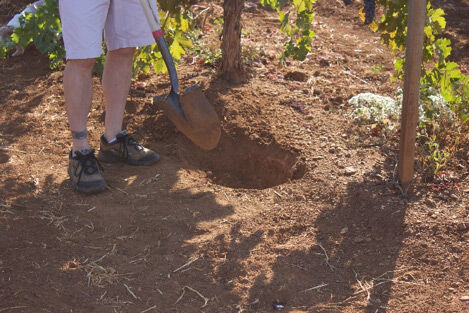 Digging up red dirt in a dry farmed block of Monte Rosso vineyard
ALEXANDER VALLEY AVA
The one word to describe the soil of the Alexander Valley is diverse. As our neighbors at Stonestreet Vineyards note on their website, the geology of Alexander Valley's Black Mountain, where we source a portion of our fruit, contains more soil types than all of France! The varied, sparse and rocky soils of this appellation, along with cool morning fog and intense mid-day sunlight, contribute to the wines' blue fruit flavors, elegance and savory aromas of black tea and dried herbs.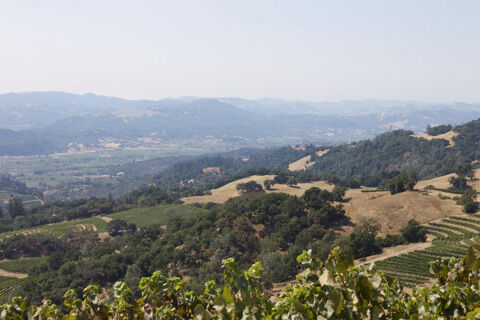 View from Black Mountain hillside overlooking the Alexander Valley
KNIGHTS VALLEY AVA
Our vineyard team likens the fine-grained, brown and yellow soil of the Knights Valley to "moon dust" that lingers on our boots hours after leaving the vineyards in this remote and sparsely populated region. The alluvial soils in the benchlands and the Rhylotic (volcanic) deposits on the mountainside tell the story of land that's been carved out by prehistoric rivers and built up by volcanic activity. Arrowood's Knights Valley Cabernet Sauvignon displays many of this region's hallmarks including distinctive notes of cocoa powder and a gravel-tinged minerality.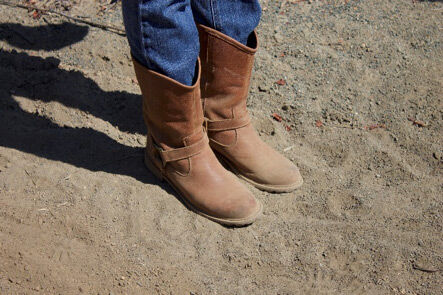 Kicking around in the Knight's Valley "Moon Dust"