RECREATE A SUMMER'S DAY IN GREECE WITH SHRIMP SAGANAKI
"Sauvignon Blanc has always reminded me of my home – there's nothing like a chilled glass of it on a hot day in Greece. I can't wait for you to taste our first ever Knights Valley Sauvignon Blanc, which we are releasing now so you can enjoy it this summer. It has refreshing acidity and these beautifully complex aromatics of orange blossom, pineapple, white nectarine, ginger, and honey.
The one thing left to complete this Greek summer memory is my favorite dish, shrimp saganaki. I have loved it since I was a little girl – yes, we eat seafood from an early age in Greece! As an adult, I appreciate it even more with a cold glass of Sauvignon Blanc. The secret is using the freshest ingredients, straight from the market. I like to replace the ouzo in the recipe with Sauvignon Blanc as it adds more flavor and pairs well with the sweetness of the ripe tomatoes and the saltiness of the feta cheese.
Treat yourself to a Greek-style meal this summer. Follow my lead, grab a glass of our Knights Valley Sauvignon Blanc, and serve it with a plate of delicious shrimp saganaki. Enjoy!"
-Assistant Winemaker, Katerina Grigoriadou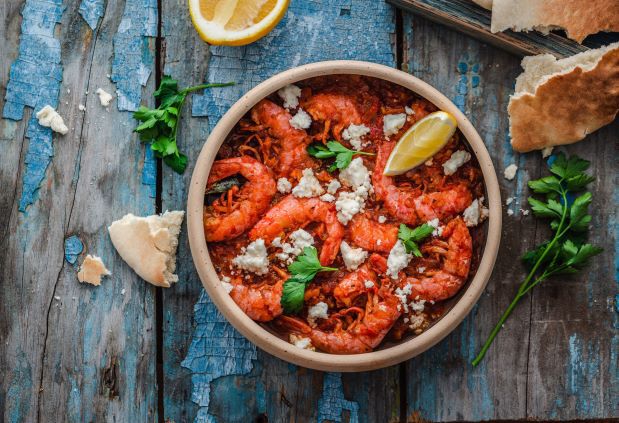 SHRIMP SAGANAKI
INGREDIENTS
1 GREEN BELL PEPPER, THINLY SLICED
1 ONION, DICED
3 CLOVE(S) OF GARLIC, THINLY SLICED
2 MEDIUM TOMATOES, FLESH GRATED AND SKINS DISCARDED
1 TSP SUGAR
16 OZ SHRIMP, DEVEINED BUT HEAD AND TAIL INTACT
3 TBSP OLIVE OIL, EXTRA FOR DRIZZLING
SALT
PEPPER
2 PINCHES CHILI FLAKES
2 WHOLE PODS STAR ANISE
1 TBSP TOMATO PASTE
2 TBSP SAUVIGNON BLANC
3 TBSP BASIL, FINELY CHOPPED
2 TSP OREGANO, FRESH
¾ CUP CRUMBLED FETA CHEESE
INSTRUCTIONS
Preheat oven to 400℉
In a mixing bowl, stir in granulated sugar with grated tomatoes.
Place a pan over high heat and let it get very hot.
Put deveined shrimp (thawed if using frozen) in large bowl. Drizzle with olive oil.
Season shrimp with salt and pepper right before cooking as to not remove moisture. Toss to coat and add to the hot pan.
Sauté shrimp for one minute (until golden brown on both sides).
Transfer shrimp to a plate and set aside until needed.
Place pan back on heat. Add some more olive oil, the onion, bell pepper, garlic, salt, pepper, chili flakes and star anise.
Sauté until the mixture is nicely caramelized, adding more olive oil if necessary.
Add the tomato paste and sauté.
Add the Sauvignon Blanc and let it evaporate.
Add the grated tomato mixture and bring to a boil.
Transfer to an ovenproof baking dish.
Sprinkle with ½ of the finely chopped basil.
Add ½ of the crumbled feta cheese over the top.
Arrange the shrimp nicely in the baking dish and press them down gently with your fingers to sink into the sauce.
Add the remaining crumbled feta cheese, remaining finely chopped basil, a little oregano and finely drizzle with some extra virgin olive oil.
Bake for 20 minutes.
When ready, remove from oven, drizzle with some more extra virgin olive oil and serve with 2021 Knights Valley Sauvignon Blanc.